Posts tagged "free-software":
17 Apr 2023
tl;dr1: Big Tech is deploying AI assistants on their cloud work-spaces to help you work better, but are you sure that what you produce using these tools falls under your copyright and not that of your AI provider?
15 Apr 2023
Les DSI1 des moyennes et grandes entreprises sont fatiguées de devoir maintenir et mettre à jour des centaines ou des milliers de postes de travail alors que l'informatique n'est pas cœur de métier de la boîte2. En plus, les informaticiens compétents ayant une bonne hygiène corporelle sont difficiles à trouver.
La réponse est évidemment de se tourner vers les « solutions » en ligne, le SaaS (Software as a Service), le cloud. C'est simple : le poste utilisateur peut se limiter à un terminal avec un navigateur internet qui se connectera aux serveurs de Microsoft ou de Google (les 2 fournisseurs principaux). Plus besoin d'installation locale de suite Office, plus besoin de mise à jour ou de montée en version, plus besoin de sauvegardes. C'est le fournisseur qui s'occupe de tout, les logiciels tournent chez lui et les documents produits sont aussi hébergés sur ses machines.
C'est simple, c'est dans le nuage : c'est la modernisation du SI !
Cependant, certaines entreprises sont trop à cheval sur la propriété intellectuelle, la souveraineté numérique et même la PPST ou le RGPD. Elles pourraient donc être réticentes à adopter ce type de solution. En effet, il peut être délicat de stocker des informations confidentielles sur des serveurs que l'on ne maîtrise pas. Mais comment rester compétitif face à ceux qui sont disruptifs, bougent vite et qui ne se laissent pas embêter par des amish ?
D'après les fournisseurs, il n'y a pas de crainte à avoir, car les solutions proposées permettent d'activer le chiffrement côté client. Ceci veut dire que les flux de données entre le poste utilisateur et les serveurs du fournisseur sont chiffrés cryptographiquement par une clé que seulement le client possède. La conséquence est que les documents stockés chez le fournisseur sont illisibles pour lui, car il n'a pas la clé.
Nous voilà rassurés. C'est sans doute pour cela que Airbus utilise Google Workspace3 ou que Thales utilise Microsoft 365. Par ailleurs, Thales est partenaire de Microsoft pour le développement des techniques de chiffrage. Cocorico !
Du coup, les appels d'offres de l'État français pour des suites bureautiques souveraines semblent ne pas avoir de sens. Surtout, qu'il y a aussi des partenariats franco-américains de « cloud de confiance » qui vont bientôt voir le jour. Mais il reste des questions à se poser. Par exemple, on peut lister ces points de vigilance :
Le chiffrement côté client n'est pas fiable. J'y reviens ci-dessous.
L'extraterritorialité du droit américain peut imposer aux fournisseurs américains de mettre en œuvre « un espionnage paré des vertus de la légalité ».
Le fournisseur peut fermer l'accès du client à tout moment : plus d'e-mail, plus de tableur excel, plus de ChatGPT qui nous aide à écrire des rapports que personne ne lit.
Pourquoi le chiffrement côté client n'est-il pas fiable ? Pour commencer, ce chiffrement n'est pas complet : beaucoup d'informations sont accessibles en clair pour le fournisseur. Par exemple, les noms des documents, les entêtes des e-mails, les listes des participants à des réunions, etc. Les flux vidéo et audio seraient chiffrés, mais, même le fournisseur officiel de chiffrement pour Microsoft écrit ça dans les invitations à des visioconférences sur Teams :
Reminder: No content above "THALES GROUP LIMITED DISTRIBUTION" / "THALES GROUP INTERNAL" and no country eyes information can be discussed/presented on Teams.
Petite explication de « country eyes » par ici4.
Mais il y a un autre aspect plus intéressant concernant le chiffrement côté client. Ce chiffrement est fait par un logiciel du fournisseur pour lequel le client n'a pas le code source. Donc il n'y a aucune garantie que ce chiffrement est fait ou qu'il est fait proprement. On pourrait rétorquer que les logiciels peuvent être audités : le fournisseur vous laisse regarder le code ou il vous permet d'étudier le flux réseau pour que vous soyez rassuré. On peut répondre : dieselgate, c'est-à-dire, il n'y a aucune garantie que le logiciel se comporte de la même façon pendant l'audit que le reste du temps. De plus, vu que le fournisseur gère les mises à jour du logiciel, il n'y a pas de garantie que la version auditée corresponde à celle qui est vraiment utilisée.
Il semblerait donc que la vraie « solution » soit d'héberger ses propres données et logiciels et que le code source de ces derniers soit disponible. Le cloud suzerain5 n'est pas une fatalité.
13 Sep 2020
23 May 2016
Please allow me to introduce a couple of ideas which should help improve the user experience on the GEE platform. I know that Google, a company of wealth and taste, has an impressive record on providing services with outstanding features. They have the best search engine, the best web mail application and the best web browser1.
But these services and tools are targeted to non expert users. With GEE, Google is addressing a complete different audience: scientists, or I should say Scientists. These are clever people with PhD's! Therefore, in order to keep them satisfied Google will have to make an extra effort. One could think that scientists can easily be fooled because, for instance, they agree with giving away to private companies the results of research funded with tax payer money2. Or because they accept to be evaluated by how many times their tweets are liked3. Seeing scientists like this would be a mistake. They are very demanding users who only want to use the best tools4.
But Google has the technology needed to attract this smarter-than-the average users. Here go some ideas which could make GEE the best platform for producing impactful research using remote sensing data.
12 May 2016
More than for any other post in this blog, the usual disclaimer applies here.
Let's face it: what Google has implemented with the Earth Engine is very appealing since it is the first solution for Earth Observation data exploitation which concentrates all the open access EO data, the computing resources and the processing algorithms. This is the Remote Sensing Scientist dream. Or is it?
Talks and posters at ESA Living Planet Symposium this week show that an increasing number of people are using GEE to do science. One of the reasons put forward is the possibility of sharing the scripts, so that other people can reproduce the results. This is, in my opinion, an incorrect statement. Let's have a look at a definition of reproducible research:
An article about computational science in a scientific publication is not the scholarship itself, it is merely advertising of the scholarship. The actual scholarship is the complete software development environment and the complete set of instructions which generated the figures. —D. Donoho
One important term here is complete. When you use GEE, or any other non free software like Matlab, even if you share your scripts, the core of the algorithms you are using is just a black box which can't be inspected. Actually, the case of GEE is even worse than the one of non free software running locally. Google could change the implementation of the algorithms and your scripts would yield different results without you being able to identify why. Do you remember the "Climategate"? One of the main conclusions was:
… the reports called on the scientists to avoid any such allegations in the future by taking steps to regain public confidence in their work, for example by opening up access to their supporting data, processing methods and software, and by promptly honouring freedom of information requests.
During one of my presentations at the Living Planet Symposium I decided to warn my fellow remote sensers about the issues with GEE and I put a slide with a provocative title. The room was packed with more than 200 people and somebody tweeted this: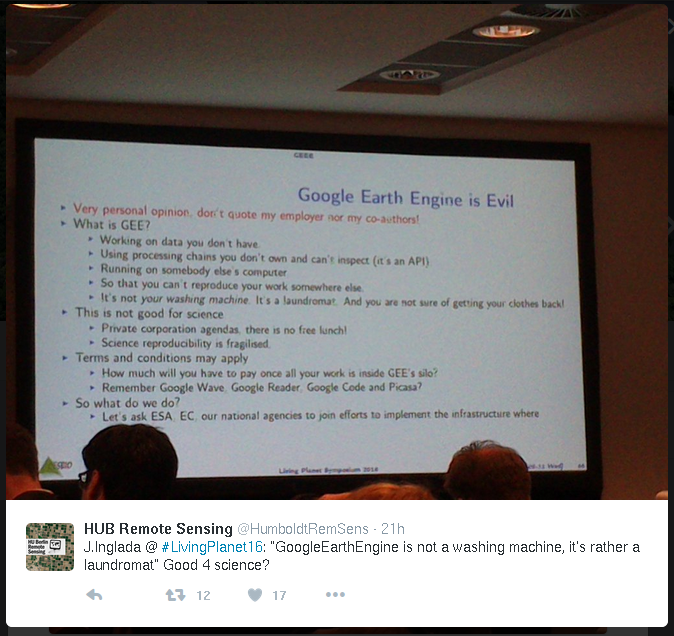 So it seems I was able to get some attention, but a 2-minute slide summarised in a 140 character tweet is not the best medium to start this discussion.
As I said during my presentation, I fully understand why scientists are migrating towards GEE and I don't blame them. Actually, there is nobody to blame here. Not even Google. But in the same way that, after many years of scientists using non free software and publishing in non open access journals, we should take a step back and reflect together about how we want to do Earth Observation Science in a sustainable (which is the perenniality of GEE?) and really open way.
What I was suggesting in the 3 last bullet points in my slide (which don't appear in the tweeted picture1) is that we should ask ESA, the European Commission and our national agencies to join efforts to implement the infrastructure where:
all data is available;
and every scientist can log in and build and share libre software for doing science.
And this is much cheaper than launching a satellite.
This is not to criticise what the agencies are doing. ESA's Thematic Exploitation Platforms are a good start. CNES is developing PEPS and Theia which together are a very nice step forward. But I think that a joint effort driven by users' needs coming from the EO Science community would help. So let's speak up and proceed in a constructive way.
27 May 2015
You've heard about the Orfeo Toolbox library and its wonders, but urban legends say that it is difficult to install. Don't believe that. Maybe it was difficult to install, but this is not the case anymore.
Thanks to the heroic work of the OTB core development team, installing OTB has never been so easy. In this post, you will find the step-by-step procedure to compile OTB from source on a Debian 8.0 Jessie GNU/Linux distribution.
18 Mar 2015
Coursera is offering a Data Science specialization taught by professors from Johns Hopkins. I discovered it via one of their courses which is about reproducible research. I have been watching some of the video lectures and they are very interesting, since they combine data processing, programming and statistics.
The courses use the R language which is free software and is one the reference tools in the field of statistics, but it is also very much used for other kinds of data analysis.
While I was watching some of the lectures, I had some ideas to be implemented in some of my tools. Although I have used GSL and VXL1 for linear algebra and optimization, I have never really needed statistics libraries in C or C++, so I ducked a bit and found the apophenia library2, which builds on top of GSL, SQLite and Glib to provide very useful tools and data structures to do statistics in C.
Browsing a little bit more, I found that the author of apophenia has written a book "Modeling with data"3, which teaches you statistics like many books about R, but using C, SQLite and gnuplot.
This is the kind of technical book that I like most: good math and code, no fluff, just stuff!
The author sets the stage from the foreword. An example from page xii (the emphasis is mine):
" The politics of software
All of the software in this book is free software, meaning that it may be freely downloaded and distributed. This is because the book focuses on portability and replicability, and if you need to purchase a license every time you switch computers, then the code is not portable. If you redistribute a functioning program that you wrote based on the GSL or Apophenia, then you need to redistribute both the compiled final program and the source code you used to write the program. If you are publishing an academic work, you should be doing this anyway. If you are in a situation where you will distribute only the output of an analysis, there are no obligations at all. This book is also reliant on POSIX-compliant systems, because such systems were built from the ground up for writing and running replicable and portable projects. This does not exclude any current operating system (OS): current members of the Microsoft Windows family of OSes claim POSIX compliance, as do all OSes ending in X (Mac OS X, Linux, UNIX,…)."
Of course, the author knows the usual complaints about programming in C (or C++ for that matter) and spends many pages explaining his choice:
"I spent much of my life ignoring the fundamentals of computing and just hacking together projects using the package or language of the month: C++, Mathematica, Octave, Perl, Python, Java, Scheme, S-PLUS, Stata, R, and probably a few others that I've forgotten. Albee (1960, p 30)4 explains that "sometimes it's necessary to go a long distance out of the way in order to come back a short distance correctly;" this is the distance I've gone to arrive at writing a book on data-oriented computing using a general and basic computing language. For the purpose of modeling with data, I have found C to be an easier and more pleasant language than the purpose-built alternatives—especially after I worked out that I could ignore much of the advice from books written in the 1980s and apply the techniques I learned from the scripting languages."
The author explains that C is a very simple language:
" Simplicity
C is a super-simple language. Its syntax has no special tricks for polymorphic operators, abstract classes, virtual inheritance, lexical scoping, lambda expressions, or other such arcana, meaning that you have less to learn. Those features are certainly helpful in their place, but without them C has already proven to be sufficient for writing some impressive programs, like the Mac and Linux operating systems and most of the stats packages listed above."
And he makes it really simple, since he actually teaches you C in one chapter of 50 pages (and 50 pages counting source code is not that much!). He does not teach you all C, though:
"As for the syntax of C, this chapter will cover only a subset. C has 32 keywords and this book will only use 18 of them."
At one point in the introduction I worried about the author bashing C++, which I like very much, but he actually gives a good explanation of the differences between C and C++ (emphasis and footnotes are mine):
"This is the appropriate time to answer a common intro-to-C question: What is the difference between C and C++? There is much confusion due to the almost-compatible syntax and similar name—when explaining the name C-double-plus5, the language's author references the Newspeak language used in George Orwell's 1984 (Orwell, 19496; Stroustrup, 1986, p 47). The key difference is that C++ adds a second scope paradigm on top of C's file- and function-based scope: object-oriented scope. In this system, functions are bound to objects, where an object is effectively a struct holding several variables and functions. Variables that are private to the object are in scope only for functions bound to the object, while those that are public are in scope whenever the object itself is in scope. In C, think of one file as an object: all variables declared inside the file are private, and all those declared in a header file are public. Only those functions that have a declaration in the header file can be called outside of the file. But the real difference between C and C++ is in philosophy: C++ is intended to allow for the mixing of various styles of programming, of which object-oriented coding is one. C++ therefore includes a number of other features, such as yet another type of scope called namespaces, templates and other tools for representing more abstract structures, and a large standard library of templates. Thus, C represents a philosophy of keeping the language as simple and unchanging as possible, even if it means passing up on useful additions; C++ represents an all-inclusive philosophy, choosing additional features and conveniences over parsimony."
It is actually funny that I find myself using less and less class inheritance and leaning towards small functions (often templates) and when I use classes, it is usually to create functors. This is certainly due to the influence of the Algorithmic journeys of Alex Stepanov.
26 Nov 2014
Short answer: yes.
Mid November took place in Toulouse "Le Capitole du libre", a conference on Free Software and Free Culture. The program this year was again full of interesting talks and workshops.
This year, I attended a workshop about contributing to Openstreetmap (OSM) using the JOSM software. The workshop was organised by Sébastien Dinot who is a massive contributor to OSM, and more importantly a very nice and passionate fellow.
I was very happy to learn to use JOSM and did 2 minor contributions right there.
During the workshop I learned that, over the past, OSM has been enriched using massive imports from open data sources, like for instance cadastral data bases from different countries or the Corine Land Cover data base. This has been possible thanks to the policies of many countries which have understood that the commons are important for the advancement of society. One example of this is the European INSPIRE initiative.
I was also interested to learn that what could be considered niche data, like agricultural land parcel data bases as for instance the French RPG have also been imported into OSM. Since I have been using the RPG at work for the last 4 years (see for example here or here), I was sympathetic with the difficulties of OSM contributors to efficiently exploit these data. I understood that the Corine Land Cover import was also difficult and the results were not fully satisfactory.
As a matter of fact, roads, buildings and other cartographic objects are easier to map than land cover, since they are discrete and sparse. They can be pointed, defined and characterised more easily than natural and semi-natural areas.
After that, I could not avoid making the link with what we do at work in terms of preparing the exploitation of upcoming satellite missions for automatic land cover map production.
One of our main interests is the use of Sentinel-2 images. It is the week end while I am writing this, so I will not use my free time to explain how land cover map production from multi-temporal satellite images work: I already did it in my day job.
What is therefore the link between what we do at work and OSM? The revolutionary thing from my point of view is the fact that Sentinel-2 data will be open and free, which means that the OSM project could use it to have a constantly up to date land cover layer.
Of course, Sentinel-2 data will come in huge volumes and a good amount of expertise will be needed to use them. However, several public agencies are paving the road in order to deliver data which is easy to use. For instance, the THEIA Land Data Centre will provide Sentinel-2 data which is ready to use for mapping. The data will be available with all the geometric and radiometric corrections of the best quality.
Actually, right now this is being done, for instance, for Landsat imagery. Of course, all these data is and will be available under open and free licences, which means that anyone can start right now learning how to use them.
However, going from images to land cover maps is not straightforward. Again, a good deal of expertise and efficient tools are needed in order to convert pixels into maps. This is what I have the chance to do at work: building tools to convert pixels into maps which are useful for real world applications.
Applying the same philosophy to tools as for data, the tools we produce are free and open. The core of all these tools is of course the Orfeo Toolbox, the Free Remote Sensing Image Processing Library from CNES. We have several times demonstrated that the tools are ready to efficiently exploit satellite imagery to produce maps. For instance, in this post here you even have the sequence of commands to generate land cover maps using satellite image time series.
This means that we have free data and free tools. Therefore, the complete pipeline is available for projects like OSM. OSM contributors could start right now getting familiar with these data and these tools.
Head over to CNES servers to get some Landsat data, install OTB, get familiar with the classification framework and see what could be done for OSM.
It is likely that some pieces may still be missing. For instance, the main approach for the map production is supervised classification. This means that we use machine learning algorithms to infer which land cover class is present at every given site using the images as input data. For these machine learning algorithms to work, we need training data, that is, we need to know before hand the correct land cover class in some places so the algorithm can be calibrated.
This training data is usually called ground truth and it is expensive and difficult to get. In a global mapping context, this can be a major drawback. However, there are interesting initiatives which could be leveraged to help here. For instance, Geo-Wiki comes to mind as a possible source of training data.
As always, talk is cheap, but it seems to me that exciting opportunities are available for open and free quality global mapping. This does not mean that the task is easy. It is not. There are many issues to be solved yet and some of them are at the research stage. But this should not stop motivated mappers and hackers to start learning to use the data and the tools.
04 Jul 2014
There are a couple of ideas which circulate about open source1 projects which I think are misconceptions about how software is developed.
09 Aug 2013
The other day I was curious about how many streaming video sites among those I usually visit had made the move from flash to HTML5.
The main reason is that my virtual Richard Stallman keeps telling me that I am evil, so I wanted to remove the flash plug-in from my machine.
An the fact is that many sites have not switched yet. As far as I understand, YouTube has, at least partially. Therefore, the title of this post is somewhat misleading.
I have been using youtube-dl for a while now in order to download videos from many sites as YouTube, Vimeo, etc. My first idea was therefore to pipe the output of youtube-dl to a video player supporting the appropriate format. Since I usually use vlc I just tried:
This works fine, but has the drawback of needing to manually type (or copy-paste) the URL of the video. So the command line on a terminal emulator is not what I find convenient.
Most of the video URLs I access come to me via e-mail, and I read e-mail with Gnus inside Emacs, I decided that an Emacs command would do the trick. So I put this inside my .emacs:
This way, M-x play-youtube-video, asks me for an URL and plays the video. So, when I have an URL for a video on an e-mail (or any other text document on Emacs) I just copy the URL with the appropriate Emacs key stroke and call this command. For convenience, I have mapped it to key binding:
So this is good, though not yet frictionless.
Sometimes, the video URL will appear on an HTML buffer, either when I am browsing the web inside Emacs with w3m or when the e-mail I am reading is sent in HTML1. In this case, I don't need to manually copy the URL and I just can ask w3m to do the work.
So far, this has been working fine for me and I don't have the ugly non-free flash plug-in installed, and VRMS is happier than before.
04 Feb 2012